Difficulty rating = skill: ✭✰✰✰✰ | Implementation: ✭✰✰✰✰ (beginner)
Let's say you see some very skilled artists and you want to be just as good as them but you don't know how to start. "Maybe I'll do it wrong" and "I don't know if there's some trick to doing art that I don't know" and "I saw an artist creating their drawing and it looked so… easy for them… but it ended up with something amazing!" might be things you are thinking of now.
Okay, while I have some tips for you, you have to keep in mind that those artists had a long time of drawing and creating to get to where they are. You won't suddenly find a secret technique and suddenly everything in art will be incredibly easy for you. No, it's a lot of hard work that can end up paying off over time. but you have to keep doing it.
That might sound depressing, but keep in mind that time is still going to fly by, so if you practice – even if just every once in a while- you will find that in the time that was already going to go by, you actually learned something.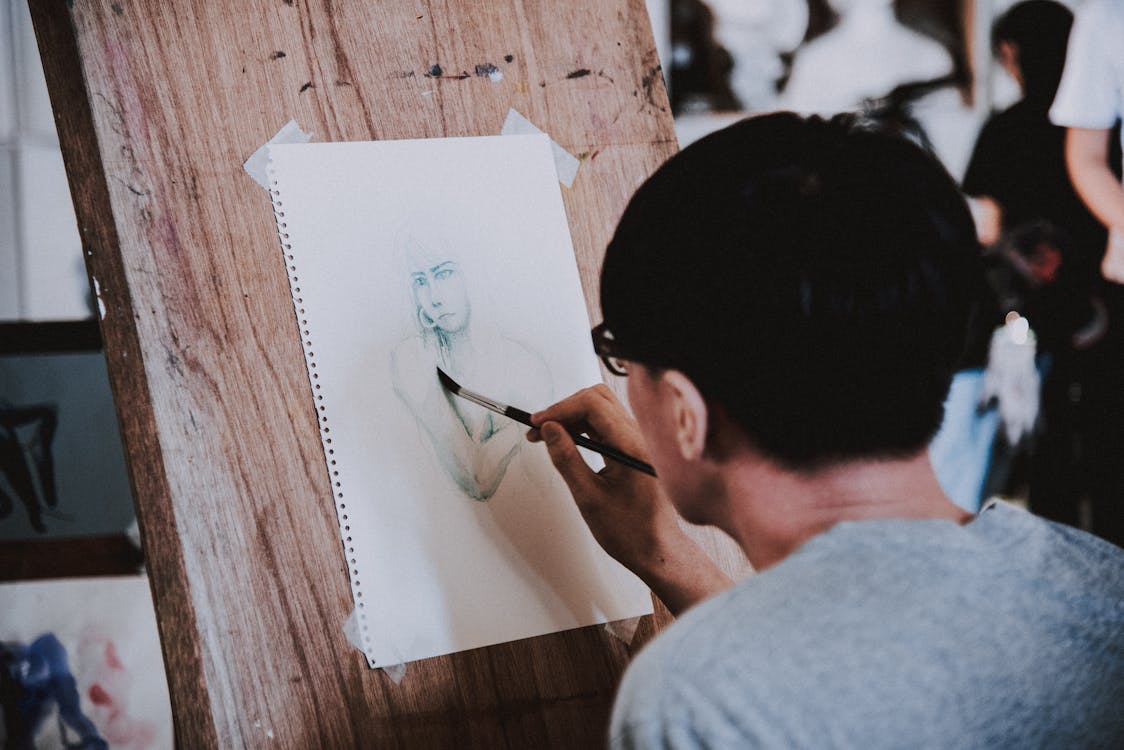 Art is a game of mileage.
What does that mean? It's about perseverance, not exactly about talent. You keep on doing repetitive and varied studies over and over and you will find yourself "leveling" up and having epiphanies on what it means.
Art studies are something with a lot of variety, there's figure studies where you study the form of people's bodies, gesture drawing where you look at living being's line of action and the flow of their bodies, line control practice where you repeat lines and curves to steady your hand and eye to hand coordination, and master studies where you see how a more experienced artist of the past or contemporary arts made art and try to replicate something about it. There's more ways to study art, but these are some of the ways to start trying.
You have to fill in your knowledge gaps.
So studying and repetition of the right things is key. You have an even wider gap in your knowledge at the start, which means that when you work hard at the beginning, there can be some notable difference in the results because you go from "knowing nothing" to "knowing something" which is a significant change. You will then understand better what it takes in preparation and skill to achieve what you want, and will be better at executing it and preparing for it.
Sometimes we think we know a lot more than we do when we don't, which is why it's important to look back on references and breakdowns of the things we plan to tackle. Come prepared by making sure that the things we aren't sure about, we search information on.
"Practice makes perfect" is something you'll hear a lot, but it has to be focused and mindful practice.
You have to pay attention to what you're doing or you might find that what you're learning is deteriorating. Or even learning the wrong thing over and over again. Maybe even that you aren't retaining anything much because you're not paying attention.
Let's say you misunderstood how an eye looked like and since the first time you drew it with that misunderstanding, you drew it that way and with variations of it 200 times, now you gained mileage on drawing eyes… but with the misunderstanding embedded. What do you do then? You have to check with reference and how things "work" WHILE you're practicing so as to not exacerbate misunderstandings. This is related to filling in your knowledge gaps, but on a more individual level.
You need to keep looking at reference and try to break down what you're looking at into more manageable pieces.
Just because you're practicing something doesn't mean you're automatically doing it well.
Simplify as much as possible, complexity at the start is not your friend.
You need to understand what you're looking at so break it down. You can break it down into shapes WHICH YOU CAN FIND AN EXAMPLE OF HOW TO DO HERE.
Start with less colors, less shapes and more geometry, less objects, more general spaces, simpler perspective shots, less objects…. The less and more simple the better at first. THEN you add more things later.
When you get stuck in something, know how to ask questions and pinpoint what it is you're having problems with. More likely than not, there's someone that had the same issue or someone has tips on how to manage your issue. If you don't find answers one way, phrase it a different way. Find answers on art forums, video sites, blogs, and so on. Believe it or not, but searching and being stubborn in your learning are almost like skills that you also level up, it's a small part of discipline.
If you don't know what an "art study" is, or what "value" is in the context of drawing, keep in mind that you can ask questions and have access to search engines like Google and DuckDuckGo at your fingertips to figure it all out. There's going to be terms and methods you won't know at first and that's fine, we've all been there.
Keep the reason you want to draw close.
Learning to draw can be tedious at times and even very repetitive, so remember the reason you wanted to learn how to draw and keep it as motivation. Don't let yourself lose your vision on why you wanted to get into drawing and art in the first place.
If, for example, the reason you wanted to draw was to make a comic, learn the things related to that goal and keep in mind you're a lot closer to it each time and actually try out small test comics while you do.
The most important thing? Just start.
Get a paper and pencil and start drawing something. Look at what you want to draw, jot down your ideas and what they mean. Get into the habit of jotting down your ideas and breaking down what they mean and make it visual. If you don't know where to start, just jot down WHAT you want to do first. What is it you want to draw? What parts are there in what you want to draw? Jot all that down, get the reference, and even if it looks crude, draw it. The more you fail, the better, because art isn't about ego, it's about failing faster and knowing why you failed.
Knowing these key tips, go forward and do what you can, interact with other artists at your level and "higher" so you have a community and friends that help each other with feedback .
Good luck on your art journey!
---
Subscribe!